Viktor Korkiya
Ariston
A contemporary retelling of the myth about Oedipus
Viktor Korkiya's "Ariston" is produced by the Oksana Mysina Theatrical Brotherhood under the aegis of the Open Stage project organized by the Committee on Culture with the assistance of the Moscow city government.

"Ariston" continues the creative partnership of Oksana Mysina and Viktor Korkiya which was begun in 2001 with "Quixote and Sancho," a show that marked the starting point in a new search for a new theatrical language. "Ariston" provides the basis for discovering a completely new aesthetic. In place of the improvisation, spontaneity and clownery of "Quixote and Sancho," "Ariston" makes way for the severity and purity that must characterize the genre of contemporary tragedy.

This is not the first time Viktor Korkiya has turned to a classical plot on the basis of which he creates completely new and original works. "Ariston" is a contemporary retelling of the myth about Oedipus. It retains the basic motifs of Sophocles's tragedy while unmistakably framing them in a modern interpretation. In Korkiya's hands, this becomes a play about a man who experiences revelation when he is confronted by evil of which he himself unwittingly was the source.

The world in which we live is so ordered that every one of our actions, every one of our words can have unpredictable consequences. What then do we answer for? Do we answer for evil we have done while seeking to do good? Or, as one of Korkiya's characters says, are we "guiltless in our own guilt"? This question also troubled Sophocles, Seneca, Cocteau and other poets and playwrights and each responded to it in his own way.

What, then, is innovative about Korkiya's play?

"Ariston" bears clear witness to a major shift that has taken place in the modern world: If in past centuries and millenniums the problems facing society were considered the problems of authorities in positions of power, in our age these problems have become universal and they touch every man and woman, regardless of their social status. For this reason, Korkiya's original working title of "Oedipus" dropped the "king" referred to in Sophocles's "Oedipus Rex." For Korkiya, the fate of Oedipus is the prototype of every human's fate. Now the play, as the production of it, is named "Ariston," for this, in fact, is Oedipus's real name. "Ariston" is the story of a man who did not live the life he should have.

In "Ariston," Korkiya took on the rare task in contemporary Russian drama of writing a "pure" tragedy, one of the most difficult of all the theatrical genres.


Öåíà áèëåòîâ: îò 100 äî 250 ðóá.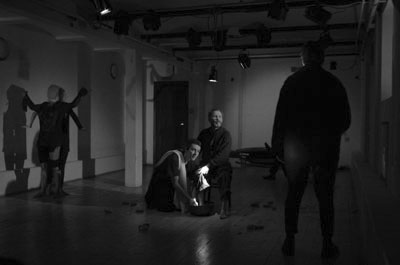 ©  Vladimir Gerasimenko
Photo Gallery







































Ññûëêè: