Alexei Zuyev
Alexei ZUYEV graduated from the Moscow Art Theater school in 1993 and immediately joined the troupe of the Tabakov Theater where he continued to work until 1997. While at the Tabakov Theater, he joined the casts of numerous productions, including Alexander Galich's Sailor's Silence, Neil Simon's Biloxi Blues, a production based on Nikita Mikhalkov and Alexander Adabashyan's filmscript An Unfinished Play for a Player Piano, Yuly Kim's Bumbarash and Alexander Minchin's Psycho. In 1998 he joined the troupe of the Chekhov Moscow Art Theater for a short stint and performed in the long-running production of Undine. Since 1998 he has taken part in many of the most popular independent productions in Russia, among them Peter Stein's Hamlet (1998) and Declan Donnellan's Boris Godunov (2000). He has performed in several productions that have achieved cult status, including Garold Strelkov's production of Yelena Gremina's The Sakhalin Wife and Olga Subbotina's production of Marc Ravenhill's Shopping and Fucking. At the Contemporary Play School, he plays in Boris Milgram's production of Kremlin, Come to Me, a play by Alexei Kazantsev.
He debuted as a theater director with an independent production of Lope de Vega's The Idiot Lady in 2003.
He performed the title role in Vitaly Melnikov's film Tsarevich Alexei (1995), for which he was awarded a prestigious Kumir (Idol) award in 1998. His work in television includes a role in one of the series of short films based on works by Chekhov which were filmed in connection with the 100th anniversary of the Moscow Art Theater in 1998. He also played in the mini-series The Empire under Attack (2001). He presently is filming in one of the lead roles of Moscow Saga, a major TV mini-series based on works by Vasily Aksyonov. The series is expected to begin airing at the beginning of 2004.
He has performed the role of Don Quixote in Quixote and Sancho since January 2002.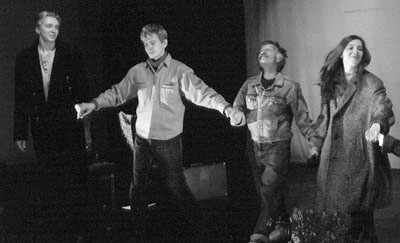 ©  Robert Olinger
Photo Gallery