Andrei Kochetkov
Andrei Kochetkov was born in Moscow and began performing in amateur theater from the age of 12. For awhile in his younger years he worked as a props man at the Moscow Art Theater. In 1976, he graduated from a special high school connected with Moscow's Maly Theater that specializes in the theater arts. Later, he worked in Oleg Tabakov's Theater-Studio on Chaplygin Street and in the Moscow University Student Theater which, at that time, was run by Roman Viktyuk. In Moscow he studied with Andrei Popov.

In the provinces he studied acting at the Vladivostok Institute of Arts and performed at the Primorsky Drama Theater there, after which he also worked as an actor in the cities of Michurinsk and Tambov.

Back in Moscow, Kochetkov became one of the founding members of Mark Rozovsky's Theater-Studio U Nikitskikh Vorot, where he remained in the troupe from 1982 to 1987. Over the next few years he worked in various Moscow theaters, including the Sovremennik-2 Theater Studio (1987), the Bat Cabaret Theater (1989), the Ulysses Theater under the direction of Mikhail Mokeyev (1990-94) and the Hermitage Theater under the direction of Mikhail Levitin (1993-94). In 1994 he joined the troupe of Yury Pogrebnichko's OKOLO, the Theater near the Stanislavsky House, and has remained there ever since.

Kochetkov debuted as a playwright in 2003 when his "The Truth about Don Quixote and Sancho," a dramatization of Cervantes' novel, was staged by Alexander Ponamaryov at the OKOLO Theater. In this production he also played the role of Don Quixote.

Andrei Kochetkov plays the Messenger in "Ariston."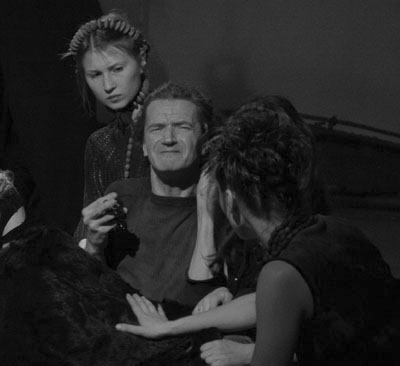 ©  Vladimir Gerasimenko
Photo Gallery