Dmitry Yershov
Dmitry Stanislavovich Yershov, bass-guitarist, is the longest-standing member of Oxy Rocks aside from Oksana herself. He joined the band two days before its first solo concert at the Actors House in the spring of 2003 and he has been with them ever since. More than that, Dima has become the group?s musical engine, writing the music for the majority of Oxy Rocks? original songs. When asked how it happened that he began composing music, Dima shrugged his shoulders with characteristic nonchalance and said, "Oh, somebody had to do it."
In fact, what happened was this: the band met to rehearse a day or two after a former member had left the group. Nobody quite knew what to expect. As the musicians began warming up and rehearsing, Dima started playing a few riffs that were floating around in his head. Oksana liked them and pulled out some lyrics she had written a few days before. They fitted perfectly and the song "The Road" was born. As they continued working that day, Dima kept playing another riff to which he constantly repeated a few words over and over. Oksana began improvising more lyrics on the spot and, before anyone knew what had happened, "The Message" was born. So, in addition to two songs, a songwriter was born that day. Dima since has written the melodies to many of Oxy Rocks? most intriguing and beautiful songs.
Dima was born July 21, 1964, in Alma-Ata and moved to Moscow with his family in 1978. He performed for many years in the bands Sky Stranger and Julia and Friends. Besides currently holding down the rhythm section for Oxy Rocks, Dima regularly performs in Moscow clubs, pubs and casinos with the Edison Blues Band and he continues to play in Yevgeny Vostochny?s band, YeVostochnYE. When asked what kind of music he likes, Dima replied, "Good music." When asked to be more specific, he said, "Sting, Eric Clapton, Paul McCartney, Elton John, Ray Charles and B. B. King."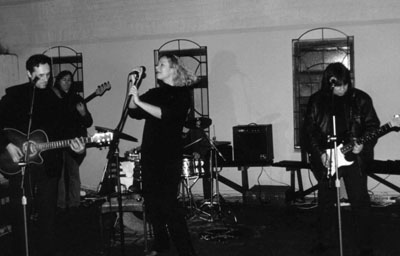 ©  Oksana Ryadnina
Photo Gallery