Vera Vasilyeva
"Vera Vasilyeva on Herself"

I was born in Moscow in August 1974. My parents were geologists and by age 3 I wanted to be a veterinarian. The next year I was sent to an ice skating school and a choreography studio. I began to dance. Meanwhile, I sang in a children?s choir in kindergarten and began to draw. Before the age of 13 I made every effort to embrace every aspect of the arts. In kindergarten I played the Snow Queen. That was my first success and my teachers predicted a "life on the stage" for me. At age 13 I resolved to become an actress and I ended up graduating from a school that specialized in theater. Mostly I sang and danced, but when I played one dramatic role, my own father didn?t recognize me. That made me even more determined to seek a life in the theater. I failed the entrance exams to the theater institute (GITIS) with flying colors and so got a job working with children in the sphere of movement and dance. Meanwhile, in an amateur production, I played a prostitute in a production of "Pamela." Two years later I entered the School of Russian Psychological Theater, doing my best to combine the techniques of representational and experiential theater in shows and skits based on Anton Chekhov, Fyodor Dostoevsky, Tennessee Williams and others. A year after graduation, I entered Gennady Abramov?s Class of Expressive Plastic Movement and studied concurrently with Yevgeny Lazarev at GITIS. This comprised my "school of survival" and my "school of improvisation." I performed in several Abramov productions, including "Farther was Earlier," "The Freeloaders" (at the Class of Expressive Plastic Movement) and Leo Tolstoy?s "The Living Corpse" and Yuly Kim?s "The Indifferent Kim-Tango" (both at the Hermitage Theater, directed by Mikhail Levitin and choreographed by Abramov). I have worked in performance art actions with the saxophonist Sergei Letov and others. My debut in film was in an episode of Yelena Tsyplakova?s "Family Secrets."
I perform as the Slave and the Sphinx in "Ariston."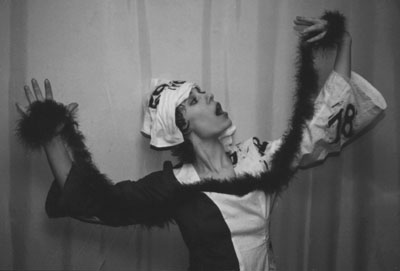 Photo Gallery