Yelena Shkurpelo
Yelena SHKURPELO graduated from the Shchepkin Institute of the Maly Theater in the mid-1980s and began her professional acting career in the Historico-Ethnographical Theater of Moscow. There she performed in numerous productions, the most important of which was Snegurochka where she played the title role. With this show she made several tours to various European theaters. In 1985 she helped found the Children's Studio of Theater Arts (renamed the Vedogon Theater in 1992) in the city of Zelenograd, not far from Moscow. Here she was a director and the leading actress until 1997. Her key roles there included the title role in the folk play Pakhomushka, Ersilia Drei in Pirandello's To Clothe the Naked and Aksinya in Panteleimon Romanov's On Good Places, Bright Dreams and Sinful Life. Since 1997 she has been a member of the troupe at Moscow's Vernissage Theater. There she has performed in some dozen productions, her roles including Mozart in Pushkin's Mozart and Salieri, Baroness de Mant in the musical show It's Not Worth Betting based on de Musset, Antonina Trofimova in Falcons and Crows by Alexander Yuzhin-Sumbatov and Vladimir Nemirovich-Danchenko, and the title role in Viktor Hugo's Marie Tudor.
In the summer of 2002, she spent two months in France working as an actress, and performing in French, with an itinerant group of clowns.
She performed the lead in Mikhail Belikov's film How Young We Were (1985).
She has performed the role of Aldonza in Quixote and Sancho since January 2002.
Yelena plays the Slave and the Sphinx in "Ariston".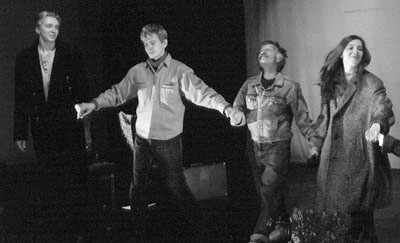 ©  Robert Olinger
Photo Gallery