Viktor Korkiya
Viktor KORKIYA, poet and playwright, was born June 12, 1948. He was one of the participants in the famous Alexei Arbuzov playwriting studio in the 1970s and ?80s while also working in the poetry division of the influential journal Yunost (Youth). He was one of the founders of the Moscow Poetry Club. His self-styled paratragedy "The Mystery Man, or, I am Poor Soso Dzhugashvili," enjoyed sensational success when it was staged by Yevgeny Slavutin at the Moscow University Student Theater in 1988. This play subsequently was performed in more than 70 theaters through the Soviet Union. Korkiya?s connection to Slavutin and the Moscow University Student Theater has proved to be a strong one. Several of his plays have been staged, and continue to run, on its stage, including "The Invincible Armada" (after Lope de Vega); "Lessons of Love," a tragicomic treatment of the Casanova myth written with the poet Alexander Lavrin; and "The Trojan Virus," a version of Korkiya?s tragedy "The Goat?s Song." His "The Devil?s Tragedy," a treatment of the Don Juan myth, was directed by Andrei Rossinsky at Moscow?s Stage Mirror Theater in 2002.


Korkiya?s poems and epic poetry were collected in the book "Free Time" (1988) and have been published in numerous leading journals in Russia and Europe. Four plays have been published in book form: "The Mystery Man, or, I am Poor Soso Dzhugashvili" (Moscow: Moskovsky rabochii, 1989); "Hamlet.ru" (Moscow: Globus, 2001); "Don Quixote and Sancho Panza on the Island of Taganrog" (Moscow: 4-i filial Voenizdata, 2001); and "Ariston" (Moscow: Krasnaya ploshchad?, 2004). His Homeric tragedy "The Goat?s Song" was published in the journal Contemporary Dramaturgy (Sovremennaya dramaturgiya, No. 3, 2000) and "The Devil?s Comedy" was published in the almanac Commentary (Kommentarii, No. 21, 2001). His plays have been translated into English, French, German and other languages, and his work is discussed in a separate chapter in Irina Skoropanova?s textbook, "Russian Postmodern Literature" (Russkaya postmodernistskaya literature [Moscow: Flint & Nauka, 1999]).


"Don Quixote and Sancho Panza on the Island of Taganrog" was staged in 2001 by Oksana Mysina under the title of "Quixote and Sancho" as the inaugural production of the new theater, the Oksana Mysina Theatrical Brotherhood. Korkiya?s next play, "Ariston," a modern treatment of the Oedipus myth, was written exclusively for this theater. It premiered in the spring of 2004. Both plays continue to run in the theater?s repertoire.


Korkiya is a tireless innovator, an irrepressible spirit and a clever trickster. He once devised a plan for selling planets to people who wished to commemorate their names for posterity in space. On a more earthly level he has recently become fascinated with the internet and has devised numerous websites involving literature, encyclopedias and even New Years. Check out his home page at http://viktor-korkia.narod.ru. In tandem with John Freedman, Korkia hosted a colloquium for the promotion of contemporary drama from 2003 to 2005 at the Actors House in Moscow. Characteristically, he used this platform to promote the works of Olga Mukhina, Maxim Kurochkin, Klim, Vladimir Nasonov, Evelina Schatz, Sergei Task, Andrei Vishnevsky and many, many others rather than himself. One of the most important influences on Korkiya is the writer, director and teacher Anatoly Antohin (Antokhin). Korkiya has often said of Antohin: "Until he left Russia there was no reason for me to write plays. When he left, I had to do something to fill the space."


"The Poet on the Actress:
Viktor Korkiya on Oksana Mysina"

Art is intuitive. Its mystery is obvious, though no one can say of what it is made.
Oksana Mysina?s intuition is limitless. Her creative spirit exceeds the bounds of her profession. She is busy creating her own Theater every second of her life. More than anyone else today, she expresses the Inexpressible.
Light passes through light, leaving no trace of a shadow.
Oksana Mysina is equally at home in plumbing the psychological depths of Dostoevsky, the tight, wending plot turns of Scribe, contemporary heroines and the epic heights of Kriemhilde.
The gift of Oksana Mysina is a life-giving gift.
To come into contact with it is fortune?s own gift.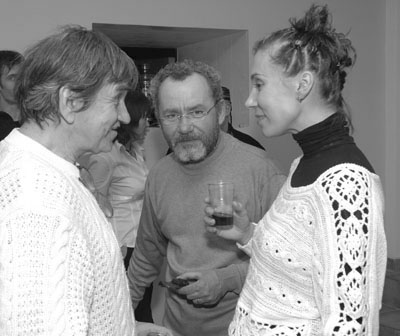 ©  Vladimir Gerasimenko
Photo Gallery




















Ññûëêè: