Alexander Meshchaninov
Alexander Meshchaninov was born in 1966 in Moscow. After finishing school, he entered the civil aviation institute in Minsk and, after studying three years there, spent two years in the Soviet army. Towards the end of his service, he resolved to study photography and cinematography. After failing to enter the State Institute of Cinematography in the late 1980s, he landed a job at the Gorky Film Studio as a set photographer. A year later, he passed the institute entrance exams and began studying to be a cameraman while simultaneously continuing to work as a location photographer.
"I realized within a year that I would never become a cameraman," he says. "I didn?t like the way our films are made. There was too much hackwork, too little art. So I dropped out after a year. At the Gorky Studio, I frequently was asked to do the audition photos as well as the on-set photos. I found I had much more freedom to do what I wanted with the audition shots. I never considered them just audition photos; I saw them as opportunities to create genuine portraits. Foremost for me was always to show the actor?s personality."
In 1992 Meshchaninov struck a deal with the MAX Acting Agency to supply it with portraits of its roster of actors. In the mid-1990s he left the Gorky Film Studio to take a position as the photo journalist for Fashion magazine where he continues to work today while making portraits for MAX and freelancing as a portrait photographer.
"Frankly, I wouldn?t even say that portraits are my favorite genre," he says. "If I had my choice, I probably would do still lifes and landscapes. On the other hand, I get a kick out of handing someone a set of portraits and seeing them react to an image of themselves that they, perhaps, had never expected to see. I couldn?t care less whether I am photographing famous people or not. All that interests me is whether my subject is an intriguing person or not."
Meshchaninov has been Oksana Mysina?s personal photographer since 1998. His portraits of Oksana have been published on the covers of Vash dosug, Lyudi lunnogo sveta, Sudarushka, Dochki-materi, Teatral?ny kur?yer, Vecherny klub (twice), Zdorovaya gazeta and other publications. His photo spreads of her have been published in a vast number of magazines and newspapers, including Harper?s Bazaar, Moulin Rouge, TV Park, Kino Park, Krestyanka, Moskovsky komsomolets, Nezavisimaya gazeta, Kul?tura, Komsomol?skaya Pravda, Rossiya, Vechernaya Moskva and others.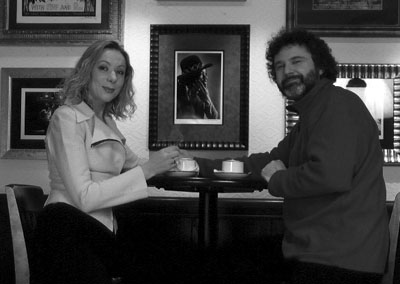 ©  Alexander Meshchaninov
Photo Gallery